MBA - Master of Business Administration

A Recognised UK MBA in Singapore Awarded by Anglia Ruskin University, U.K.
---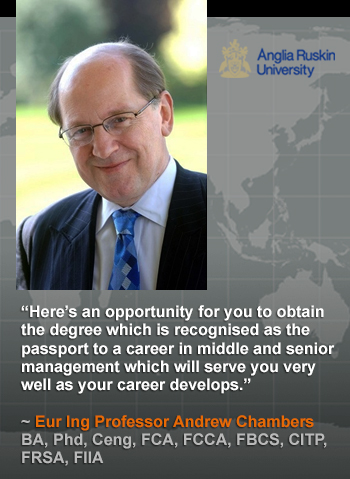 Full Time / Part Time MBA in Singapore
The Master of Business Administration (MBA) programme from Anglia Ruskin University (ARU) is delivered in both part-time and full-time mode. It has been developed to meet the needs of middle and senior managers.
Unique to the ARU MBA is the depth of emphasis on practical and professional orientation designed into the curriculum. There are no written examinations in the curriculum. Real life examples are discussed and debated in class. Students can immediately apply the solutions in their business or workplace. Students will find themselves intellectually and analytically put to the test through assignments, projects and case studies. The learning objective is to help students improve their awareness of issues, analyse potential outcomes and consequences of their strategies or decisions.
The Anglia Ruskin MBA curriculum follows the Quality Assurance Agency (QAA, UK) recommendations to focus on advanced study of organisations and the dynamic, global context businesses face in recent years. Our MBA graduates are well equipped with up-to-date skills and knowledge to head their organizations or drive their businesses to the next level.
For more information, please fill up the form below and our MBA consultant will contact you as soon as possible: