A Recognised UK MBA in Singapore Awarded by Anglia Ruskin University, U.K.
---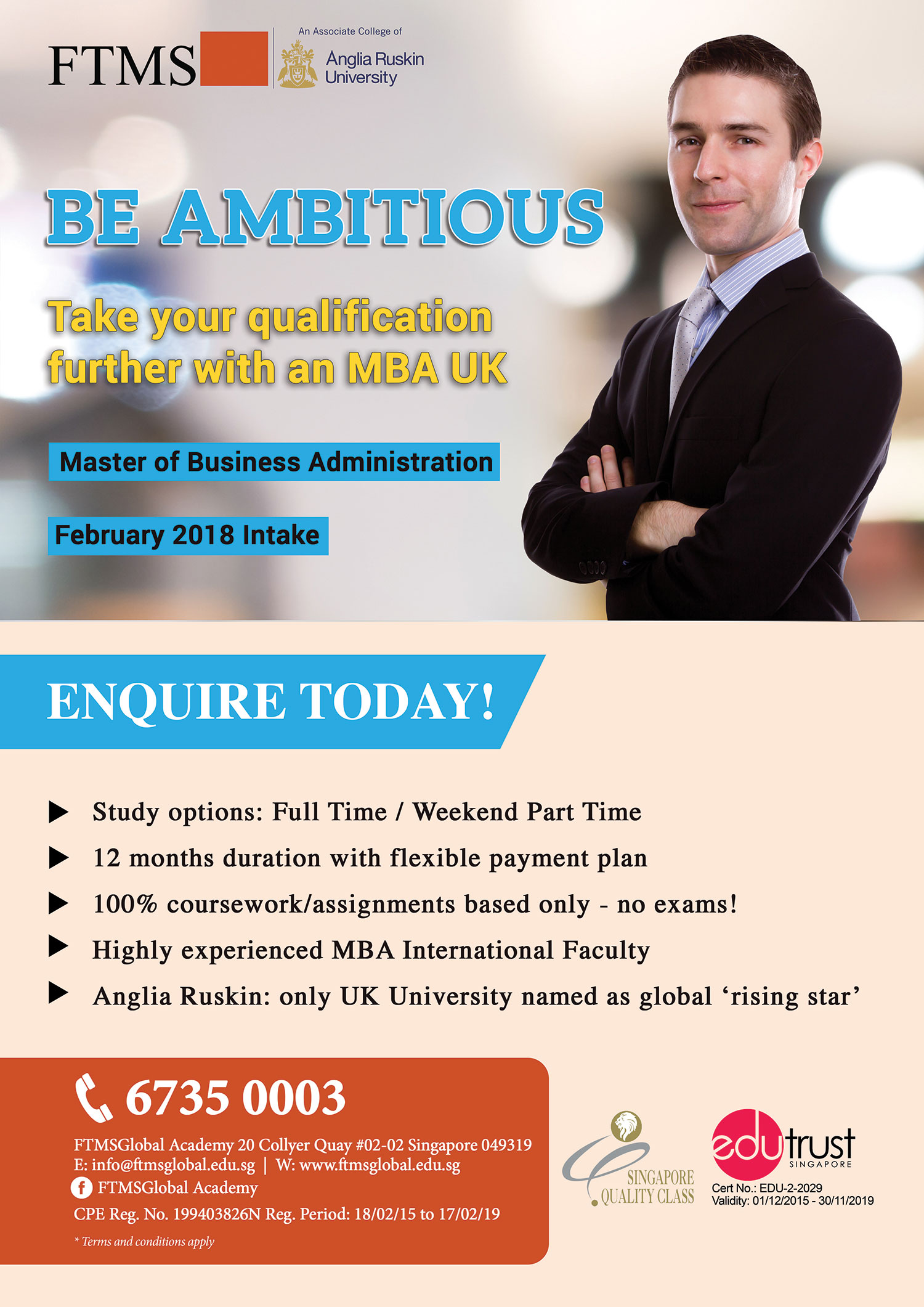 MASTER OF BUSINESS ADMINISTRATION
Get your MBA in 12 months awarded by Anglia Ruskin University UK
Admission open for February 2018 Intake
Leaders need to be able to think critically and creatively, communicate effectively, make sound decisions and implement them efficiently. If you work in a managerial position and want to improve your overall employability, alongside your theoretical knowledge of management, our Anglia Ruskin University MBA is an excellent choice. Get the right skills and knowledge to become a top leader in the dynamic and competitive global business environment.
Full Time or Weekend MBA Programme at FTMSGlobal
The Master of Business Administration (MBA) programme from Anglia Ruskin University is delivered in both Full-Time and Weekend mode. The MBA programme has been developed to meet the needs of middle/senior managers and entrepreneurs in the running of businesses, to deliver corporate governance, core values and leadership skills and to facilitate their progression to higher-level and more efficient roles within their organisation.
Flexible Study Options and International Faculty
Student can choose to study Full Time and finish MBA in 12 months or Weekend MBA which is offered over a course of nine (9) weekends within one year. The MBA is delivered by an international faculty from the United Kingdom, Hong Kong, India, and Singapore. The MBA programme has many "value adds" which develop students competencies in business ethics, leadership, innovation, creativity and corporate governance.
100% Coursework Assessment - No Exams
Student examinations are avoided with assessment being by coursework tailored well to the current or future experiences of those who are "rising stars" in the business world. There is an emphasis on acquiring specific, transferable management skills which are both strong and finely tuned for senior roles in organisations.
*Terms and conditions apply
MBA Promotion Registration