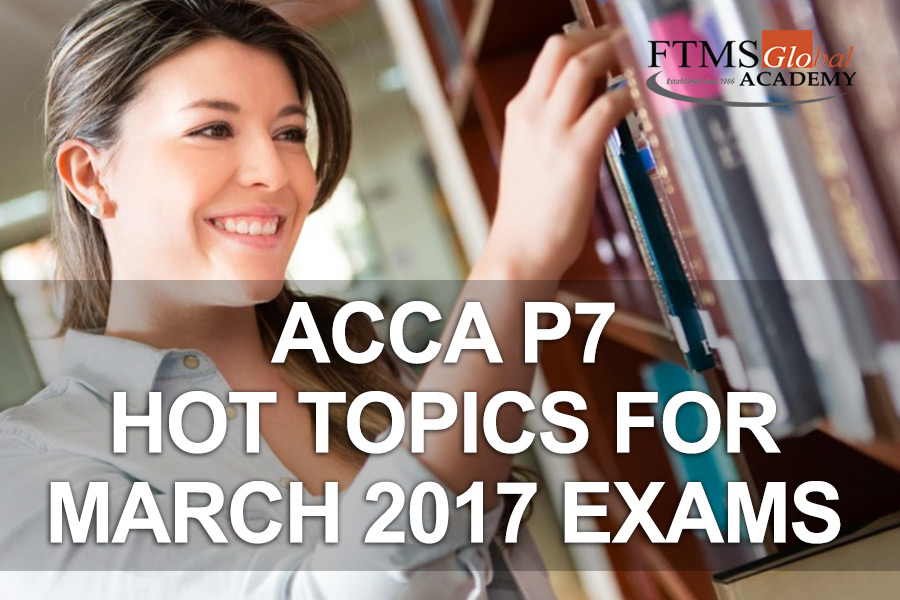 THESE ARE JUST GUESSES. USUAL HEALTH WARNING APPLIES – USE AT YOUR OWN RISKS!
(compiled by Mr Fung Chee Kong, FTMSGlobal Subject Specialist)
Likely to have a question on identifying business risks. (see Dec 2014 Q1a, Dec 2012 Q1a, Dec 2010 Q1a, June 2009 Q1a) Must learn to link business risks to FS risks of MM (see June 2008 Q1, June 2014 Q4a theory) Dec 2014 Q1b).
Be prepared for risk of material misstatements (previously known as FS risks). Practice Dec 2008 Q1a, Dec 2009 Q1c, Dec 2010 Q1b, June 2011 Q1ai and June 2012 Q1aii, June 2013 Q1a, June 2014 Q1a. For identifying risk of MM, see Dec 2012 Q1b, Dec 2010 Q1a, June 2009 Q1a. See also Dec 2008 Q1a and Dec 2009 Q1c.
Be prepared for a group audit question. Could be a question on identify risk of MM for a group (See Sept 2015 Q1). Practice and review June 2012 Q1, Dec 2013 Q1, June 2014 Q1.
Internal auditing – Outsourcing IA issues to consider (from audit firm's point of view, from company's point of view), advantages and disadvantages of outsourcing IA to external audit firm. See Dec 2006 Q2 and June 2010 Q2.
Accounting problems/issues (Many past exam questions on these) Read up and focus on the recent 3 years for this type of question - Important areas include audit of provision (including warranty and decommissioning provision), deferred tax, share-based payments, leases, intangibles, investment property (must do use of expert). You should be aware of the things to cover when question asked for "matters to consider", then the principal audit procedures.
Use of analytical procedures – Factors to consider when deciding the extent of use and reliance on analytical procedures in testing Dec 2009 Q1a). Although just tested in June 2016 Q1b, plus previously in June 2013 Q1a, Dec 2011 Q1a and Dec 2009 Q1a (theory), better to review these few questions in case we need to use ratios to get the audit risks.
Ethical issues facing the auditor – practice lots of the ethics questions. Take note of confidentiality. (Identify circumstances in which the disclosure is permitted or required and discuss the factors, which may justify disclosure under public interest). Take note of providing non-audit services like valuation, IT services, internal Audit service = Dec 2012 Q3b), cross selling service (Dec 2012 Q3b, June 2015 Q4), business opportunity with client (June 2014 Q4) and referral fees (
QC is important – can be linked to ethical issues above and how ethical conflicts can affect quality of work. Read up QC cases like recent June 2016 Q2a, June 2015 Q4, June 2014 Q3, June 2013 Q2a, June 2011 Q1c, Dec 2009 Q2b, Dec 2007 Q1c.
Assurance engagement – A possible question like factors to consider when accepting assurance services (see June 2011 Q3a, Dec 2010 Q2, June 2009 Q2). Important to do KPI assurance service – See Dec 2007 Q2, Dec 2008 Q1, June 2012 Q2, Dec 2014 Q3b, Dec 2015 Q2b.
Need to study forensic auditing. See June 2015 Q3c, June 2013 Q2c, Dec 2011 Q4, Dec 2008 Q2, Pilot Paper Q2.
Due diligence is important - See latest Sept 2015 Q3 plus June 2011 Q4, June 2008 Q2, Dec 2007 Q3. What procedures will you perform to do a due diligence, use of enquiry and analytical procedures in conducting due diligence.
Subsequent events – See Dec 2009 Q5 and review Dec 2010 Q3c.
Almost certainly a question on audit reporting – Emphasis of matter (June 2010 Q5), adverse and except for opinion. Read a new article (taken from Nov 2013) on proposed new standard of audit report, know the proposed new format and new para to be included. Do questions on critically appraise the audit opinion (ie given an opinion which is wrong, get into details on the wordings, paragraph arranging, headings etc)
Compliance with laws and regulations (see Dec 2006 Q4a, Dec 2011 Q2c and June 2015 Q2c). Auditor's responsibility, procedures and reporting duties.
Audit of opening balance – See June 2011 Q3b and Dec 2011 Q5c
Insurance for auditors – two types, advantages and disadvantages of buying insurance.
Remember the key to this paper is practice lots and lots of past exam papers.
And lastly, look out for any relevant P7 article(s).
END OF HOT TOPICS